ABOUT
Truckee Roundhouse is a community-created, community-run, community-benefiting non-profit makerspace located in a renovated storage hangar at the Truckee-Tahoe Airport.
Our mission is to support the teaching, learning, and practicing of a wide variety of crafts, skills, technologies, and arts in the Truckee-Tahoe community. We achieve this by providing accessible resources --tools and teachers and programs – in a collaborative environment for youth and adults so that all members of our community can explore their creative potential.
Since our opening in December 2016, we have been bringing community together, making a positive impact on education, youth development, and the arts.
PUBLIC PROGRAMS
The Roundhouse features five fully functioning shops: wood, ceramics, metal, textiles, and technology. We are almost entirely volunteer run, with 45 volunteers who staff the front desk, maintain tools and machinery, orient members, and promote the space. We currently have more than 30 instructors and 195 members. In 2017, our first full year of operation, we had 580 class enrollments. We continue to reach more members of our community with 2,200 membership visits in 2017 and 3600 membership visits in 2018 in addition to the 567 School and Community group visits and 752 public class enrollments. In 2019, by October we have already had over 4000 membership visits and served over 700 students in our School and Community programs. We continue to be proud of the ways we serve our community and look forward to welcoming even more folks in 2020 as more people come to discover what an incredible community resource the Roundhouse is.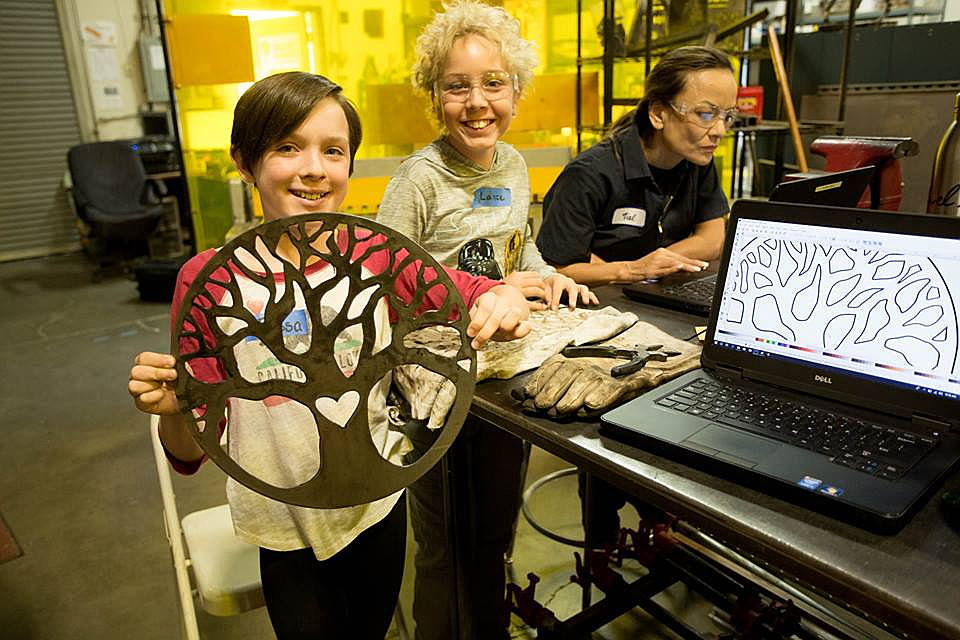 YOUR GIFT SUPPORTS
Youth and Community Enrichment Programs
We provide high quality tools and instruction so youth and community groups can immediately begin to learn and create projects in a safe and engaging environment. Professionals and experienced users mentor the students, who celebrate the joy of making something with their own hands as they learn project design and teamwork. The making process helps develop problem-solving skills, self-esteem and resilience. As they exercise creativity to build custom projects, they also apply principals of math and science to real life situations.
We are very proud of our Youth and Community Enrichment Programs that offer affordable programming to educational partners, which to date include: Creekside Charter School, Sierra Expeditionary Learning School (SELS), Sierra High, Creekside Charter School, Tahoe Expeditionary Academy (TEA), Girl Scouts and Boy Scouts, Sierra Watershed Education Partnership (SWEP). Our programs remain affordable for our educational partners thanks to funding from individuals, businesses and foundations.
Scholarships
We offer need-based scholarships and subsidized memberships. As a nonprofit, we must raise the funds to offer scholarships or discounted rates because our costs are real, and your donations helps us do this.
Affordable Membership Rates
We strive to be an inclusive, accessible resource for all members in our community. We understand the cost of living is high in our area and seek private and grant funding to keep our monthly membership rates affordable for all.